I picked up
Kazu Kibuishi's
graphic novel
Amulet
one day on my lunch break and I was sucked in instantly. As I have mentioned in the past, I was never a fan of the comics as a kid. I didn't even read the Sunday funnies. However, the presence of graphic novels - on the shelves at the bookstore, in the hands of adults and kids - is impossible to ignore and their place and value in the world of children's literature deserves examination and exploration. Just a year ago the kid's section at the bookstore where I work began devoting a whole bay to young adult graphic novels and manga, which is where I found
Amulet
.
For the uninitiated, here are my lay-person definitions of this and related genres.
Manga
is a form of Japanese comic book that reads from right to left and utilizes a specific style of illustration. In Japan, people of all ages read manga and they cover a wide range of topics. Not all are fantasy/science fiction based. I have even seen one that deals with a mother of an autistic son. A
graphic novel
seems to be what comic books have matured into. The plots are a bit longer, more complex and more diverse and, because of the color printing, they tend to cost almost as much as a hardcover novel. However, the graphic novels in the young adult section usually go for almost half the cost and sell for about $10 a volume. The artwork can be spectacular, ranging from dark, moody and painterly to crisp, well defined and minimal. A page can have ten or more panels on it or only one full page illustration. The panels serve as kind of paragraphs, breaking up and moving along the story as well as informing the reader of the emotions and actions of the characters. Instead of words, internal thoughts and feelings are often expressed with facial expressions which, when you consider the fact that characters are often stylized and simplified in a graphic novel, much as they would be for an animated movie, makes it all the more amazing what the artists and the writers' with their textural direction, are able to convey in a work. The winner of the Newbery Award in 2009 for
The Graveyard Book
, Neil Gaiman has written several
comics
, including the very popular
Sandman
series as well as
Stardust
, illustrated by the magically elegant
Charles Vess
, which was made into a movie recently. I have reviewed a handful of titles that I categorized as
graphic novels
, as an umbrella label, but up until now,
Rapunzel's Revenge
by Newbery Honor winner
Shannon Hale
is the only title that truly falls into this genre. Susan Schade and Jon Bueller's fabulous
Fog Mound Trilogy
, which is a graphic novel, traditional novel combo also bears mentioning.
Without much background knowledge of the world of graphic novels, all I bring with me to my reading of Kibuishi's
Amulet
series is my love of the artwork in illustrated books and an deep appreciation for the films of Hayao Miyazaki, founder of
Studio Ghibli
. In fact, the image of the walking house above reminded me instantly of Miyazaki's adaptation of the
Diana Wynne Jones
novel,
Howl's Moving Castle
, in which there is a house that walks on chicken feet, like Baba Yaga's in Russian folklore. I was thrilled to learn that Kibuishi worked in animation for a time and, when asked who his influences in the comic format are, he replied,
"Hayao Miyazaki and Jeff Smith are my biggest influences. Both of their works reflect the interests they have outside of the comics field. In Miyazaki's case, his love of children's literature and his experience as a director of animation shines through in his loose aesthetic and dense, action-packed panel layouts of
Nausicaa
of the Valley of Wind. And for Jeff Smith, his love of old comic strips is fused with a grand Tolkien-inspired fantasy story to create the classic graphic novel series. I only hope that every time I draw comics, I'm bringing something new and interesting to the table as well."
Jeff Smith's
Bone
series of graphic novels (which features and anthropomorphized femur bone as the main character) are HUGELY popular in the kid's section at the store where I work. They sell almost as much as Jeff Kinney's
Diary of a Wimpy Kid
series, which technically are not graphic novels, I suppose, but end up in that section anyway. As an aside, Charles Vess has provided the illustrations for Smith's prequel to the Bone series titled,
Rose
Amulet

begins with a prologue. Emily and her mother and father are driving down a winding mountain road at night on their way to pick up her younger brother, Navin when a tragic accident leaves the family fatherless. The illustrations in this scene are very intense, despite the fact that the most blood shown is a trickle from Emily's mother's nose. The reader sees the tears and the anguish of Emily and her mother as they realize they are unable to help. As I was reading through this book I kept asking myself, "Why not just write a novel and add some illustrations?" and I realized that this is particular scene is exactly why. There are emotions and internal thoughts that can be conveyed more immediately and precisely with images than words and Kibuishi's work utilizes this quality magnificently, both in emotional situations and scenes of action.

Fast forward a few years and the family is moving to a small town in the country to a house owned by Emily's great-grandfather Silas Charnon. Kibuishi freely admits other influences besides Miyazaki and they include movies and video games and other movies like

The Neverending Story, The Empire Strikes Back

and

ET

. Readers will notice other influences as well but will ultimately be pleased with the way that Kibuishi makes the settings and characters his own.
While cleaning, Emily explores Silas's study and discovers a hidden Amulet that Navin helps her tie around her neck. In the middle of night the night the amulet begins talking to her, giving her instructions, telling her of the danger her family is in. Shortly after that a noise wakes them and Emily's mother grabs a flashlight and heads down to the basement to investigate. A swirling apparition leads her to a giant, spidery-squid-like creature that inhales her and runs off. The children follow and the adventure begins. Although they won't know it until the second book, they have entered the kingdom of Alledia, an alternate version of planet earth, where a cruel elf king is ruling a land in the grips of a curse that is slowly turning all of the citizens into animals, albeit human-like animals that walk upright and are sentient. Book one finds Emily trying to save their mother from the stomach of the monster and trying to harness the power the Amulet possesses. In this, the children are not alone. They make their way to a house where they find Silas Charnon still alive, although barely. Welcomed by a fleet of robots of varying shapes and sizes, all built by Silas, the children are lead to his bedside. The robots are definitely the comic relief in the book, although they are also serve as the children's guides to Alledia and ultimately their protectors. Miskit, a pink rabbity-robot who seems to have jumped right off of a Pokémon trading card, is both wise and brave, having been created to serve and protect Emily and Navin. Silas dies shortly after meeting his descendants, but not before he informs Emily that the Amulet, should she learn how to master its power, will give her a "great and glorious power beyond anything you ever imagined," including the power to turn back time, making Emily think of her father. Silas tells her to listen to the stone, follow its instructions and gain the power to "shape your own world." But, she must also must choose to take on the role of Stonekeeper and all that it entails or walk away. Despite Navin's shouts, Emily makes her choice.
The two story lines, Emily's struggle to master the Amulet without letting it master her, as well as the fate of Alledia, are very compelling. The world that Kibuishi creates is both magically beautiful and threatening at times. Trellis, the son of the elf king, sent to kill Emily, is truly frightening in appearance but also possibly a conflicted, Severus Snape-like character who will be interesting to watch over the course of the series. Just between the first two books, the growth of Emily and Navin's characters is exciting to watch. Emily, serious and sad, stoically takes on her new role in Alledia. The scenes in which she learns to harness the power of the Amulet and fight off attackers are wonderful. While I eschew violence in movies, the fight scenes in
Amulet
seem more subtle and subdued than those on film. A lightening-ish stream of light from the Amulet is the weapon Emily yields most often. Their is a sword fight in the second book, but no lost limbs or blood, and I appreciate this. I realize that you can't tell an epic story without battles between good and evil and Kibuishi does a fine job of illustrating this clash without carnage.
I have read through this book several times and enjoyed it more with each reading. As a newcomer to the genre of graphic novels I still feel a bit like I am not reading it right or missing out on a communal language of graphic novels that I am not aware of yet. However, with my love of fantasy, both in literature and film, I find Kibuishi's work immediately accessible. Also, his illustrations are just flat-out beautiful at times. The main characters in the story are simplified in their appearance, but the background settings, whether interiors or outdoor scenes, are detailed and lush. I included as many visuals as I could, but I realize they are small and much of the beauty an impact is lost. I strongly encourage you, if you are the least bit interested, to head to the nearest store and flip through a copy. You will not be able to resist its pull. The only downside is waiting for the next book in what could be a 10 book series! Kazu Kibuishi is also the editor of an anthology for adults titled
Flight
, which is now up to volume 6. This series is for adults, although there are several stories in each that are perfectly appropriate for children, including Kean Soo's
Jellaby
series, some of which can be read online at Secret Friend Society. Jellaby is now being published in individual volumes and sold in the children's department. Kibuishi and crew have also started an anthology for kids titled,

Flight Explorer

, which is wonderful. Finally, Kibuishi has a collection of his comics coming out in January of 2010 and featuring

Copper

. I haven't seen this strip yet, but based on the description, this story of a fearful boy and his curious dog who build boats and planes and travel to fantastic lands sounds brilliant.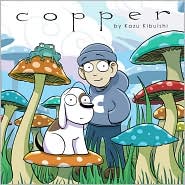 For those of you in Southern California, check out the happenings at
Gallery Nucleus
in Alhambra, California. Kazu Kibuishi is hosting a workshop at the gallery titled, "Storytelling for Comis and Film." Beginning on September 15, 2009 it will last for seven weeks and each student will leave the course with a ten page comic! The gallery has hosted other kid's book related events and will have more in the future.
This is Kazu's painting titled, "The King's Garden," created for
Flight
contributor
Corey Godbey's
incredible tribute to Maurice Sendak and his groundbreaking
Where the Wild Things Are, Terrible Yellow Eyes, an amazing collection of works of art inspired by the book.