Ok. I'll be honest. I am jealous of
Mo Willem's
talent. And sense of humor. And his illustration skills. I tell you that now to preface anything negative I may blurt out at any point during this review. He has a HUGE following of devoted parents and children and, while I don't always share their level of devotion, I do get it and I do think that it is deserved. I jumped on board the bus when
Knuffle Bunny: A Cautionary Tale
came out in 2004, the year my youngest son was born, and we loved (and love) that book to bits. I cheered when it won the Newbery Honor. I don't find the
Pigeon
books quite as funny as every child I know, mostly because these books are bit difficult to read out loud and require quite a lot of acting on the reader's part to really do them justice and I am not always up for that.
Possibly because of my luke-warm feelings for Pigeon, I did not immediately embrace the first few

Elephant

&

Piggie

books to hit the shelves in 2007. I read them at story time at the bookstore and to my son at home but was a bit underwhelmed by them overall. Also, I was put off by the price of the books - $8.99 for what essentially is a beginning reader book, the majority of which are published in paperback and cost $3.99. In the two years since their arrival, I have had the chance to read more

Elephant

&

Piggie

books, both at home and at work, and have come to appreciate them on many levels, although I still wish they would come out in paperback, thus making them more widely accessible to emerging readers, which is exactly who these books, vetted by an early learning specialist, are aimed at. For a really great discussion between three bloggers who also wear the hats of children's librarians and mothers, read the

tri-review

posted by Jules and Eisha at a sort of insider-kid-lit-blog that has tons of fascinating interviews with authors and illustrators,

7 Impossible Things

, and Pam Coughlan at

MotherReader

. Two of the three reviewers discuss in detail what makes a beginning reader book good (repetition of words, picture cues) and how they have watched their children grow as readers while having these books read to them and reading them on their own. As Pam Coughlan writes, "The

Elephant

&

Piggie

books use simple words and repeat them to improve word recognition. They give clear picture cues to the reader with no distracting
background. Prediction is another important component of learning to read. For example, when the two birds [in
There is a Bird on Your Head
] fly off and get some sticks, the child can predict that they will biuld a nest." Sure enough, the word "nest" appears on the following page. And, as all three point out, the
Elephant

&

Piggie
books are highly readable, for parents and children. I was lucky enough to nab 7 of the 10 current titles (
I am Going
will be published in January of 2010) during a visit to the library and watched as my husband and son worked their way through the whole pile in one sitting. Being such short books, this didn't take them long, but I did notice that my son frequently asked to have a book read twice in a row upon finishing and my husband was more than happy to do so.
And what, exactly, is so great about Gerald the elephant and Piggie? In terms of Arnold Lobel's
Frog and
Toad
, which is my measure for all fictional beginning reader couples, Gerald and Piggie are definitely a more contemporary pair. You really can't compare
Frog and
Toad
with
Elephant

&

Piggie
because Lobel's books are much longer and thus written at a higher reading level that allows for more depth of story and character development. This said, Willems manages to pack a lot of personality into his characters and books, most of which have fewer than 150 words total and usually only 60 - 75 different words in all. Of the two, Gerald seems to be slightly more knowing, stable and stoic and perhaps this is why he has a name. Piggie is a bit more manic, prone to joyous fits of exuberance and tearful bouts or sorrow. This reminds me precisely of every toddler I have had the pleasure of knowing intimately and is perhaps why these books appeal to young children.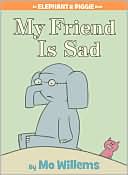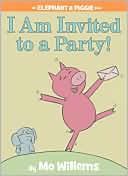 And, the bottom line is, Mo knows little kids. He can think like them and write and illustrate characters who act like them. And, Mo knows parents as well. In one of my favorites,
I Will Surprise My Friend
, Elephant and Piggie see a squirrel hide then jump out and surprise his friend and they decide to do the same, however they neglect to determine who will hide and who will be surprised. This makes for some funny tension as the two sit on either side of a large rock. When nothing happens Gerald begins to think the worst and imagines Piggie's sad fate. Who among us parents has not done this at one time or another? Piggie, however, figures Gerald got hungry and went home for lunch. Who among the toddlers we know and love has not had food at the forefront of all thought? When they both decide to quit hiding at the exact same time they inadvertently surprise each other, which makes for lots of googly eyes and laughs. There are always laughs. Dr Seuss never makes me laugh. So, if I am going to invest almost $10 in a beginning to read book for my child, I want it to make him/her and maybe even me laugh, and the
Elephant

&

Piggie
books bring the laughs by the barrel.
Are You Ready to Play Outside
and
There is a Bird on Your Head
won the relatively new
Theodore Geisel Award
that the
Amercian Library Association
began giving out in 2006. This award recognizes literary and artistic achievements that demonstrate creativity and imagination to engage children in reading and is sort of the Caldecott award for beginning reader books.
Coming in February, 2010, Cat the Cat, a new series from Mo Williams, which he says is for the "youngest bookworms!"