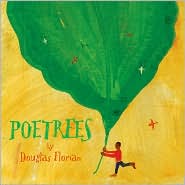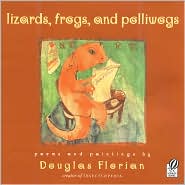 Douglas Florian
has written and illustrated over 30 books of poetry for children. His poems are often playful, sometimes a little dark depending on the subject matter, and his artwork is always a bit dream-like and entrancing and very visually satisfying. Florian's
artist's statement
is a poem in itself, beginning, "My drawings are abstract regressionist. They are old but behave like little children." I think that is a wonderful place to start talking about his work...
Florian has chosen many different themes to dwell upon artistically, all of them very kid friendly. His books include poetic and playful titles like
Laugh-eteria

,

Beast Feast

,

Insectlopedia

,

Dinothesaurus

,

Mammalabilia

,

Autumnblings
, and are filled with short but succinct poems that perfectly conjure up the subjects they are exploring, like
The Rhea
, from
Beast Feast
.
The rhea rheally isn't strange -
It's just an ostrich, rhearranged
.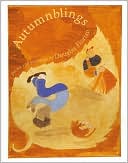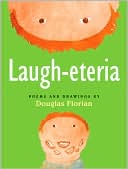 Many of Florian's books are available in paperback, including

Laugh-eteria

,

Mamalabalia

,

Insectlopedia

,

On the Wing

,

Beast Feast

,

Bing, Bang Boing

,

In the Swim

, and

Monster Motel

and are well worth the $7.00 or $8.00 cover price just for the artwork alone.
Also from
Beast Feast
, one of my favorite animals,
It doesn't like to move at all.