But, before I rave on about Robert's illustrations, I have to tell you what a marvelous book Beaty has written. It is both funny and poignant at turns, and very endearing. But, what amazes me above all else is Andrea Beaty's way with a rhyme. You may not realize it until you have been reading picture books out loud for over a decade, but the well written rhyming picture book is a RARE thing - especially if you don't take the Seussian out and make up your own words.
Iggy Peck, Architect
stands out in this category, along with
Chris Van Dusen's
brilliant and beautiful
The Circus Ship
, which made my
Best Picture Books of 2009
list. This is how Beaty's wonderful book begins...
Young Iggy Peck is an architect
and has been since he was two,
when he built a great tower - in only an hour -
with nothing but diapers and glue
"Good Gracious, Ignacious!" his mother exclaimed.
"That's the coolest thing I've ever seen!"
But her smile faded fast as a light wind blew past
and she realized those diapers weren't clean!
She goes on to tell the story of Iggy's ups and downs, all the while illustrated with Roberts' fabulous patterns and prints and angular style that lends itself perfectly to a story of this nature. Also, it must be noted that Roberts is a master at subtly integrating the classrooms of his picture books. Whether you like architecture or not,
Iggy Peck, Architect
is just a fun, fun book to read out loud and look at.
the Three Little Pigs: An Architectural Tale

is the newest picture book/design primer for children from Steven Guarnaccia, former Op-Ed Art Director at the NY Times and current chair of the Illustration Department at Parsons the New School for Design Steven Guarnaccia. As an art school drop-out, (from the Otis College of Art and Design during the decade it partnered with the Parsons School of Design, no less) there is much about this book, and

Iggy Peck, Architect

, that appeals to me. For those of you who share this interest, be sure to visit the Moleskine website where there is a very cool video of one of Steven Guarnaccia's sketchbooks and its contents.
I suspect that
the Three Little Pigs: An Architectural Tale
will be nothing more to you than yet another retelling of the old story if you are not interested in the history of art, architecture or design. If you are, though, I can't think of a better way to hook your kids and start some really great conversations and maybe even projects. The endpapers of Guarnaccia's book are filled with sketches of great pieces of design and architecture fame from the 20th century and can serve as a key to most of the pieces in the book. For the rest of the works that you may not recognize, thank google and wikipedia. The book begins with the three pigs setting out to make their way in the world as their mother waves goodbye to them from
The Gamble House
built in 1908 by masters of the Arts and Crafts movement, Greene and Greene. Architects all, the pigs, with nods to
Frank Gehry
,
Frank Lloyd Wright
and
Philip Johnson
, set off to make their way in the world.
The first little pig takes some scraps and builds
The Gehry House
, Frank Gehry's own home in Santa Monica, CA. I grew up about a mile down the road from this house and marvelled (and, to be honest, snickered) at it when I passed it as a child. I didn't find out who Frank Gehry was until almost a decade later when I was in college and saw Gehry's
Standing Glass Fish
sculpture at the Walker Art Center in Minneapolis and put two and two together.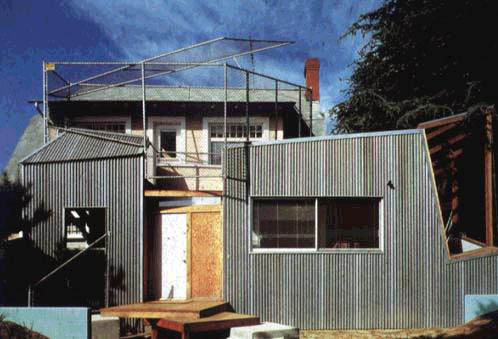 The second pig, Philip Johnson, builds Glass House, in Connecticut, which was completed in 1949.
The wolf, who makes quick work of Gehry and Johnson's houses, moves on to the third little pig, a.k.a Frank Lloyd Wright, and his home, a.k.a
Falling Water
, which was built in 1934 in Pennsylvania.
Once inside, we are treated to more masterpieces of design, which Pig Three has naturally furnished his house with. The story of the three little pigs and their house building adventures makes a nice frame to hang this story on. But, what this story is really about are the designs of the houses, and that is fine with me. I thoroughly enjoyed reading and then researching all the little bits and pieces that go together to make up this book and I think that you and your children will as well!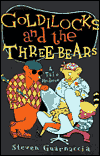 Steven Guarnaccia is also the author and illustrator of
Goldilocks and the Three Bears: A Tale Moderne
. As with the pigs and their houses, Guarnaccia uses the bears and their furniture to introduce young readers to the design greats, including Ray Eames, Isamu Noguchi and Alvar Aalto.