PART ONE: A Brief History of the Author and Illustrator
John Burningham. Helen Oxenbury. They are the British editions of say, Maurice Sendak and Marla Frazee. Except roughly the same age. And married. They are royalty in the world of children's picture books in the UK. Burningham won the Kate Greenaway Medal, the British equivalent of the Caldecott, in 1963 for his book
Bokra: The Adventures of a Goose with No Feathers
.
Burnigham and Oxenbury married in 1964 and Oxenbury's first book was published in 1969.
You are probably more familiar with Helen Oxenbury's illustrations, especially
We're Going on a Bear Hunt
, by Michael Rosen.
The Three Little Wolves and the Big Bad Pig
by Eugene Trivisas,
Ten Little Fingers and Ten Little Toes
by Mem Fox and her own book,
It's My Birthday
. However, you may not know that she illustrated a very charming edition of Lewis Carroll's
Alice's Adventures in Wonderland
and
Through the Looking-Glass
in 1999 which won the Kate Greenaway Medal - her third. I have not come across another illustrator - besides Marla Frazee, who is relatively new to the kid's book scene in terms of Oxenbury's career span - who captures babies with such gentleness, humor, grace and beauty. Oxenbury's color palette is a peaceful one, her babies (mostly) cheerful. She can even make a baby with a runny nose look charming (see
Ten Little Fingers
.)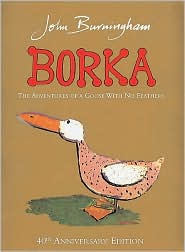 John Burningham has had less of a shelf presence in the States, although his work is often written of with admiration. I think I first came across his books years ago at my local library. Burningham's work is often a combination of drawing, painting and collage. In a superb interview from 2009, Burningham talks about his approach to writing and illustrating picture books, over 50 now, and the appetites of his young readers. Writing for the Telegraph newspaper,
Nicolette Jones
notes that,
although his work is underpinned by liberal values, Burningham is not didactic. "As soon as you start to deliberately put messages across, it's like a Seventh Day Adventist on the doorstep… you realise you are being got at." His guiding principle is different: "The 11th Commandment should have been 'Thou Shalt Not Bore'." He deplores what he calls a "party food approach" to books for children: the belief that "lots of colours and pretty pictures will do when there's no content. Children get very quickly bored. Colour means absolutely nothing unless it is used to some effect."
Burningham's books definitely do not bore, texturally or visually.
Would You Rather...
is pure brilliance and out of print here. Burningham gives kids options like, "Would you rather... an elephant drank your bath water, an eagle stole your dinner, a pig tried on your clothes or a hippo slept in your bed?" Or, "Would you rather... Your Dad dance at school or your mom make a fuss in a cafe?" And, in his slightly wicked and subtly subversive way, Burningham also gives readers the chance to choose between eating spider stew, tasting slug dumplings, staying all night in a creepy house for fifty dollars and being sat on by a rhinoceros. Another favorite of mine,
Hey! Get Off Our Train
finds a boy, his toy train and his pajama case dog imagining an epic train ride during which many different animals hop aboard, are told off and then given a reprieve when the boy and dog learn of their plights, which usually involve a loss of habitat due to the encroachment of humans. In all of his books (and I haven't even mentioned his popular
Mr Gumpy
- NOT Grumpy books - Burningham deftly employs his imagination and exercises the imaginations of his readers, with words and pictures.
So, drumroll, please................the FIRST EVER COLLABORATION BETWEEN TWO GREATS FROM THE WORLD OF CHILDREN'S LITERATURE -
There's Going to be a Baby

written by John Burningham
and illustrated by Helen Oxenbury!
Because of Oxenbury's way with babies and Burningham's deft ability to think like a child (and NOT what most adult's THINK is thinking like a child...) I cannot think of two people better poised to write a book about a child's attempts to cope with the very abstract news that
There's Going to be a Baby
.
It was hard not to include every single gorgeous picture from this book, which is illustrated on two levels. The text walks us through the six or so months between the time that a mother (and it is only the mother we see in this book which is ok with me. For toddlers with stay at home mothers, no matter how excellent a parent the other person is, mom is almost the whole world and that book reflects this childlike perspective) tells her son that a sibling is on the way and the and when s/he will arrive. During this time of gestation, the mother and son talk about the baby, wondering what he might be when he grows up. The mother's words in pale blue, the boy's words in dark blue. The mother's ideas prompt the boy to imagine the baby doing the various jobs the mother suggests. These imaginings are represented with comic-book-like illustrations (that are also quite comical) and did not scan well on my printer, so I have only included a few.
There's going to be a baby.
The boy wonders when the baby will come? "The baby will arrive when it's ready, in the fall, when the leaves are turning brown and falling." What will we call the baby? Mom has a few girl names, but of course the little boy wants a brother and suggests a few names of his own. This is when the imaginary-cartoon-baby makes his first appearance, floating in a thought bubble.
I think he should be called Peter or Spider-Man.
Having lunch out one day, mom proposes that, "Maybe when the baby grows up, it will be a chef and work in a restaurant." "I don't think I'd eat anything that was made by the baby," the boy replies. Then we see the baby cooking and thoroughly enjoying himself...
Imagining the baby trying to do adult tasks and making a mess of things works as a way for the boy to cope with his anxious or negative feelings about the arrival of a sibling. As a bookseller, I am constantly surprised by how FEW books there are that really address the arrival of a new sibling and the anxieties it stirs up. There aren't even as many books on the shelf about new siblings in general as you would think. A book like
There's Going to Be a Baby
is desperately needed, both for the realistic, thoughtful way it addresses the arrival of new siblings and for the descriptive, but simple illustrations that tell the story as well.
An afternoon in the park brings more thoughts of the baby on the way, prompting mom to say, "They always need people to work in the park, so that's something the baby could do." The boy responds, "I don't think the baby could ever rake up all these leaves."
As the third trimester nears an end, the little boy says, "When is the baby coming, Mom? I want to see the baby." "It won't be long now. The baby is being as quick as it can," mom replies.
By the time the baby arrives, the abstract is made concrete - almost - and the boy is genuinely pleased about his new sibling. On the bus to the hospital with his Grandfather the two talk. "Maybe it will be Susan or Peter. Maybe it will be good at cooking and it will sail on the seven seas and work in the garden or the zoo or the bank," the boy says.
In the final words of the book, as they are walking towards the mother's hospital room, the boy says, "Grandad, the baby will be our baby. We're going to love the baby, aren't we?"
Maybe it takes a combined 75+ years of children's book writing and illustrating experience before you can create a book as wonderfully, simply, beautiful as
There's Going to Be a Baby
- even the title of the book embodies all of these qualities. Whatever the reason, there has never been another book like this one and I am so glad it is finally here! This book is an essential for all new and growing families!
For those of you who are interested, what follows is a brief interview with Burningham and Oxenbury about the creation of this book.
A conversation with the creators about their first-time creative pairing
Please describe your process of working together and what it was like collaborating as a couple to create There's Going to Be a Baby.
We now realize that it has taken over ten years to complete There's Going to Be a Baby. We started with a much longer text, and for the sections in which the boy is exploring the baby's future in his imagination, Helen drew realistic babies in adult clothing, which looked very bizarre and not entirely appealing. We can't even begin to remember how many times we had another try at getting it right! Finally, Helen had the idea of depicting the baby as a comic-strip character, which removed some of the obstacles, and gradually the whole book came together.
Were you inspired by your experience as parents to tell this story? What do you hope parents and children will take away from this story?
Fortunately we didn't experience (we think) this problem with our own children, but one does see all around how some children never come to terms with their new sister or brother. We hope this book, which is a celebration of there being a new baby in the family, may help a young child come to terms with the new arrival.
Are you planning another team effort in the near future? (We sure hope so!)
We too hope we will one day manage to do another project together, but of course it has to be the right one.