Creepy Monsters, Sleepy Monsters - a lullaby, written by Jane Yolen and illsutrated by Kelly Murphy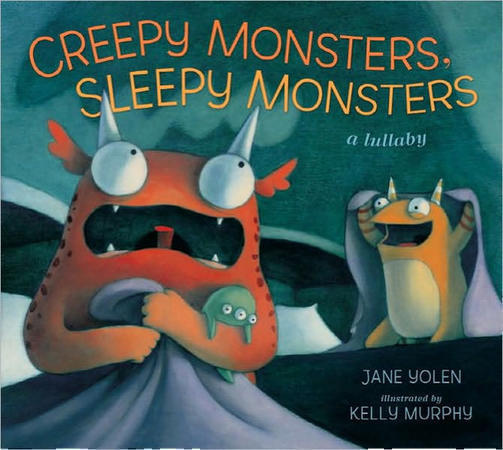 With
Creepy Monsters, Sleepy Monsters - a lullaby
,
Jane Yolen
and
Kelly Murphy
team up for a bedtime treat for little listeners. Twenty lines of mostly rhyming text accompanied by a few monster-y onomatopoetic words at the end make up the whole of this book.
Little monsters tumble home from school and prepare for bed. Although they are creepy monsters, they are so playful and enthusiastic and do the same things that sweet little children do that I doubt any listener will be prone to nightmares after reading this book. And, as most parents know, little children often crave that which is big, brutish and scary (dinosaurs, sharks and monsters...)
Dinnertime leads to bath time and eventually bedtime when monsters jump and bounce and toss and turn. Siblings GROWL and gurgle, BUPR and grrr, SNARL and snarf and finally mumble, "I'm not sleepy." Of course, the picture reveals otherwise! Besides creating some of the most memorable monsters this side of
Where the Wild Things Are
, Murphy's color palette is warm and gentle, like a cozy comforter. On top of that, little details here and there, like the bubbling stew in Monster Mom's pot and the tell-tale tail sticking out from under the bed (do monsters have monsters under their beds???) make
Creepy Monsters, Sleepy Monsters - a lullaby
perfect for multiple readings.
CREEPY MONSTERS SLEEPY MONSTERS. Text copyright © 2011 by Jane Yolen. Illustrations copyright © 2011 by Kelly Murphy. Reproduced by permission of the publisher, Candlewick Press, Somerville, MA