826 NATIONAL NEEDS YOU!
This is the time of year when I begin to think about what organizations I want to donate money to (and how much I can afford to donate....) and

826 National

is one of the handful of organizations on my list. Of course I believe that reading is important, but I rarely have the opportunity to get on my soap box and shout about how vital I think writing skills are to future success, and the main goal of

826 National

is to develop the creative and expository writing skills of children 6 - 18 through one-on-one attention.
I first featured

826 National

here

(click for details about

826 National

or go straight to their site or watch the video, below) in 2010. While working on a review of

Mac Barnett's

newest book I discovered that he is on the Board of Directors (as is

Jon Scieszka

) for

826 National

and that he helped open the

Echo Park Time Travel Mart

! The history of

826 National

and the long list of people involved from writers to actors to directors and more is phenomenal, but not as phenomenal as what each of the seven locations (each with a hilariously themed, real storefront with the tutoring center in back) accomplishes for children.
I hope you will take the time to learn more about

826 National

and consider making a donation to them this year. And if you live near one of the 826 locations and think you have something to offer, I hope you will consider volunteering! Below is a video filmed at the

Echo Park Time Travel Mart

and the most recent mailer from

826 National

talking about all the great things going on right now.
Dear Friends,

It's a festive time of the year and we hope you are enjoying the fall. At

826

, programming across the country has kicked into high gear, including After School Tutoring, Field Trips, In-Schools Programs, Workshops, and our Personal Statement Day/Weekend. We've also had a slew of high-profile media coverage in the past two weeks, and we thought you would enjoy seeing some of the highlights below!
826

in O Magazine

Oprah Winfrey, yes THAT Oprah, has highlighted

826

National in the December issue of The O Magazine (print and online editions). We couldn't be happier that

826

is featured as one of eleven national charities recommended for volunteer service. We're grateful for her endorsement, and feel honored to be recognized alongside so many respected organizations. Click here to view the online edition.
Ron Burgundy's Top 10 Reasons To Support 826LA


Want to hang out with the cast of Anchorman AND support free writing programs for kids in LA? We thought so! 826LA is offering a chance to do both. Your contribution of $10 today could win you a trip to LA to share the stage with Ron Burgundy and the Channel 4 News Team. All proceeds from this offer and event benefit 826LA's free programs for kids.

Need more reasons to enter and support a great cause? Will Ferrell -- we mean, Ron Burgundy -- himself shares his top ten in this video. Warning: winning would make you kind of a big deal.

Enter now!
Library of Congress: American Prize for Literacy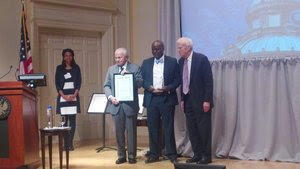 Our CEO, Gerald Richards, recently returned from Washington, D.C., where

826

National was awarded the inaugural American Prize for Literacy from the Library of Congress. You can see Gerald speaking about the significance of this award in a brief video clip (scroll to the second video) on the Library of Congress website.


826DC in The Washington Post
We were also excited that The Washington Post printed an article about the Library of Congress award and the excellent work of 826DC, which is available here.


The Wallace Foundation
826

National is featured in a prominent report by The Wallace Foundation about afterschool arts programs. The new report, Something to Say: Success Principles for Afterschool Arts Programs from Urban Youth and Other Experts, offers insights directly from tweens, teens and their families; teachers and leaders in the arts and youth development; and 10 principles for attracting and retaining an audience often thought hard to engage: low-income urban tweens. The report also includes in-person case studies of eight youth development organizations--The Wallace Foundation's selections of "best in class"--including

826

National. As part of this report, The Wallace Foundation created a video profile about

826

National's After School Tutoring program, which can be viewed here.
826

National couldn't be the outstanding and inspirational organization it is without your dedicated support!
With thanks,
All of us here at

826

National

Click here to make a donation to

826

, please remember that we accept both one-time and recurring donations. We hugely appreciate your support. Your contribution is tax deductible and will go directly towards serving the students and teachers who need help the most. Thank you!