King Jack and the Dragon written by Peter Bentley, illustrated by Helen Oxenbury
King Jack and the Dragon

, written by Peter Bentley and magically illustrated by Helen Oxenbury, who is perfectly suited to bringing life to yet another quest story after Michael Rosen's classic

We're Going on a Bear Hunt

which was published in 1989. Bentley's perfectly paced rhyme tells the story of Jack, Zack and Casper who are doing one of my all time favorite things, making a fort! There are never enough empty washing machine, refrigerator and dishwasher boxes in my life and I have been known to pull out the sheets and chairs when in a pinch. Fortunately for these boys, they have boxes, bricks, sheets and sticks and are ready to play!
Bentley writes, "Jack, Zack and Casper were making a den, a mighty great fort for King Jack and his men. A big cardboard box, an old sheet and some sticks, a couple of trash bags, a few broken bricks. A fine royal throne from a ragged old quilt, a drawbridge, a flag - and the castle was built!" "Prepare to do battle, brave knights" Jack yells to his men.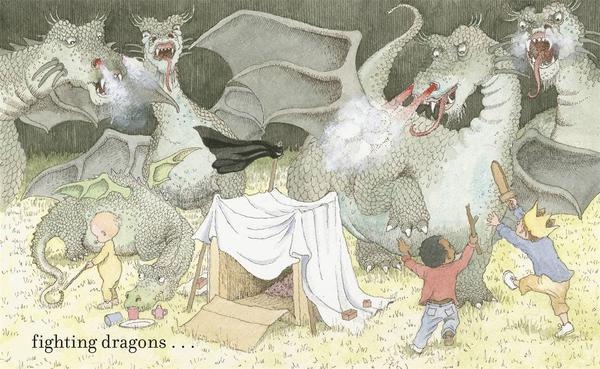 Oxenbury illustrates the battle in page spreads reminiscent of the wild rumpus from

Where the Wild Things Are

, with dragons and monsters defeated. However, her children are more childlike and with sweeter dispositions and her dragons and monsters are more enchanting than frightening. Which is good because things take a turn as the day wears on. First one knight then another is carried off by giants until King Jack is on his own in the fading daylight. Oxenbury's illustrations are washed of color as King Jack's fear grows. Suspense builds until the giants come for King Jack. Oxenbury's illustrations, while subtle, make it clear who the giants really are and King Jack plays down his fear, snuggling into his parents' arms as they carry him home.
For me and in

King Jack and the Dragon

especially, Oxenbury's illustrations have a classic fairy tale feel while also including glimpses of contemporary life which can be seen here by the baggy jeans of the boys (and a dad) that slip to reveal underwear...
Don't miss these other fabulous books illustrated by Helen Oxenbury, including THE BEST new sibling book ever

There's Going to be a Baby

, written by her husband, noted children's book author and illustrator John Burningham. Be sure to seek out Eugene Trivisas' superb picture book,

The Three Little Wolves and the Big Bad Pig

. Older listeners, boys especially LOVE this story.